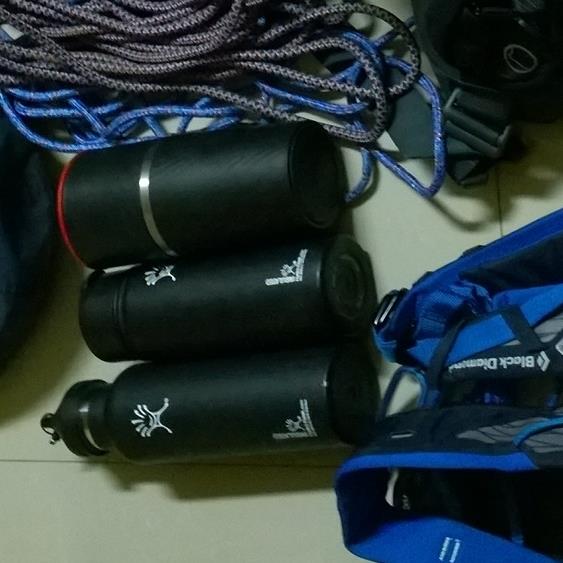 Recently we bumped into a topic on which container holds the temperature the longest. This is posted here in "food and drinks" rather than "coffee brewing" since we are not just talking about keep your coffee hot the whole day but keeping your cold drink too.
This started out with the famous Starbucks coffee tumbler.

The starbucks coffee tumbler where you can change the design inside the tumbler. Which after you change the design inside will turn out to be like those tumblers you can by from divisoria. Other than the initial starbucks paper inside, everything else is the same. But we are not here to dig deeper in that aspect, ok ok both are from china, check buttom part or base part.

The starbucks DIY design holds coffee hot, not warm, for 2 hours or so, same with those tumblers you can find in divisoria. This tumble does keep cold beverage longer than 2 hours.

We got into this thinking that, since we tolerate more of the cold, we can detect and notice a difference in the temperature. While sensitivity to hold drinks, even if there was a difference in temperature still we can it hot bacause we cant tolerate it until it gets to be warm.

Cold double wall starbucks, the one with the straw thing, not the serious type of keep cold its more of just a handy plastic cold tumbler. and a bad thing about it is mist and condesation.

Then another player, Aladdin its a brand, Aladdin-pmi.com they have the cold double wall tumbler, same with starbucks. But it keeps the ice cold drink longer, and doesnt create mist. A little sweating but not like the starbucks like you are drinking from a glass of cold water with all those water underneath.

Then another player for the hot and cold tumbler, these are known as vacuum flask. Still from aladdin, 12hrs hot, 24hrs cold. Cant compare starbucks DIY design double water tumbler with aladdin vacuum flask, uncomparable, starbucks do have their own stainless steel vacuum flask, that can be compared to the aladdin.

Only the aladdin double wall cold with straw can be compared side by side with starbucks and divisoria and the rank is aladdin at first followed by both starbucks and divisoria, both at par.

Then give the aladdin vacuum flask a good match comes hydroflask. By the way aladdin is leak proof but mind you if you use cold, condensation builds up on the upper part. Like the mist sneaking from the rubber seal. but for hot beverage no problem at all.

The hydroflask is - yup its getting better now, sweat free, so no mist and condensation. and longer temp keeping.

Let me talk quickly how insulation plays a role in double wall. It is to prevent the outside temperature from coming in and affecting the temperature of your beverage be it cold or hot. This is to insulate you hot beverage from affected by the cold snow outside and turns it from hot to warm then cold beverage after. You bought with you hot coffee and after an hour it turns into iced coffee, who wants to drink iced coffee in -20?

Another use for insulation is it keeps the beverage from freezing. on a cold trail icy trail you need water to hydrate, simple as this can you drink ice? so cold temp hold is important so you have liquid form cold water for 24hrs even on icy temps. The freezing cold climate wont affect and create ice on your beverage.

And the most common role of double wall and what most people would buy it for is that the temperature inside dont go out to the tumbler and burn your hand or gives you a cold touch.

I havent tried stanley or themos travel mugs and tumblers. So far they said stanley classic works also.

In addition, ceramic and glass linings works the best but then only on room temp factors. But traveling with them is not easy you know what i mean.

Other stuff we have tested are those that you can buy in the local stores, they do keep the temp longer but you dont wanna carry them around.